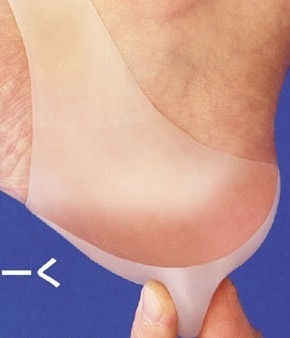 Overview
A heel spur is an abnormal growth of the heel bone, the largest bone in the foot which absorbs the greatest amount of shock and pressure. Calcium deposits form when the plantar fascia pulls away from the heel area, causing a bony protrusion, or heel spur to develop. The plantar fascia is a broad band of fibrous tissue located along the bottom surface of the foot that runs from the heel to the forefoot. Heel spurs can cause extreme pain in the rearfoot, especially while standing or walking.
Causes
When a bone is subjected to pressure, rubbing, or other stress over long periods, it tries to repair itself by building extra bone. This extra bone is what is referred to as a ?spur?. Many form as part of the aging process when cartilage breaks down in the joints.

Symptoms
You'll typically first notice early heel spur pain under your heel in the morning or after resting. Your heel pain will be worse with the first steps and improves with activity as it warms up. When you palpate the tender area you may feel a tender bony lump. As your plantar fasciitis deteriorates and your heel spur grows, the pain will be present more often.
Diagnosis
Most patients who are suffering with heel spurs can see them with an X-ray scan. They are normally hooked and extend into the heel. Some people who have heel spur may not even have noticeable symptoms, although could still be able to see a spur in an X-ray scan.
Non Surgical Treatment
Heel spurs are considered a self-limited condition, which means that by making small alterations in your lifestyle and regular routines you can often control the condition. The goal is to relieve pain, reduce friction and transfer pressure from your sensitive foot areas. By eliminating the cause of the heel spur and plantar fasciitis (i.e. better shoes, orthotics to fix your gait, losing weight) will help reduce the pressure put on your fascia and heel and can reduce the inflammation caused by your heel spur. Failure to see improvements after conservative treatments may make surgery your only option.
Surgical Treatment
Approximately 2% of people with painful heel spurs need surgery, meaning that 98 out of 100 people do well with the non-surgical treatments previously described. However, these treatments can sometimes be rather long and drawn out, and may become considerably expensive. Surgery should be considered when conservative treatment is unable to control and prevent the pain. If the pain goes away for a while, and continues to come back off and on, despite conservative treatments, surgery should be considered. If the pain really never goes away, but reaches a plateau, beyond which it does not improve despite conservative treatments, surgery should be considered. If the pain requires three or more injections of "cortisone" into the heel within a twelve month period, surgery should be considered.