Overview
Plantar fasciitis is sometimes mixed up with a heel spur although they are not the same. A heel spur is a calcium deposit that occurs where the plantar fascia is attached to the heel bone (calcaneus). In many cases a heel spur is found on a foot with no pain or other symptoms at all. And in many painful heels there is no sign for a heel spur. Heel spur and painful heal does not necessarily go together. For many years plantar fasciitis was believed to be an inflammatory condition. It is thought now to be inaccurate because there were many cases of the disorder with no inflammatory signs observed within the fascia. The heel pain cause is now believed to be damage to the collagen fibers of the fascia. This damage, caused by stress injury, sometimes may include inflammatory cells.
Causes
Plantar fasciitis tends to strike those who overtrain, neglect to stretch their calf muscles, or overdo hill work and speedwork. Plantar fasciitis can also be caused by biomechanical flaws, including flat, high-arched feet and a tight Achilles tendon; excessive pronation; sudden increases in training mileage; beginning speedwork; wearing worn running shoes; running on hard surfaces, like asphalt or concrete; or wearing high heels all day before switching into flat running shoes.
Symptoms
You'll typically first notice early plantar fasciitis pain under your heel or in your foot arch in the morning or after resting. Your heel pain will be worse with the first steps and improves with activity as it warms up. As plantar fasciitis deteriorates, the pain will be present more often. You can determine what stage your are in using the following guidelines. No Heel Pain, Normal! Heel pain after exercise. Heel pain before and after exercise. Heel pain before, during and after exercise. Heel pain all the time. Including at rest! This symptom progression is consistent with the four stages of a typical overuse injury. Ultimately, further trauma and delayed healing will result in the formation of calcium (bone) within the plantar fascia. When this occurs adjacent to the heel bone it is known as heel spurs, which have a longer rehabilitation period.
Diagnosis
Your doctor will check your feet and watch you stand and walk. He or she will also ask questions about your past health, including what illnesses or injuries you have had. Your symptoms, such as where the pain is and what time of day your foot hurts most. How active you are and what types of physical activity you do. Your doctor may take an X-ray of your foot if he or she suspects a problem with the bones of your foot, such as a stress fracture.
Non Surgical Treatment
No single treatment works best for everyone with plantar fasciitis. But there are many things you can try to help your foot get better. Give your feet a rest. Cut back on activities that make your foot hurt. Try not to walk or run on hard surfaces. To reduce pain and swelling, try putting ice on your heel. Or take an over-the-counter pain reliever like ibuprofen (such as Advil or Motrin) or naproxen (such as Aleve). Do toe stretches camera.gif, calf stretches camera.gif and towel stretches camera.gif several times a day, especially when you first get up in the morning. (For towel stretches, you pull on both ends of a rolled towel that you place under the ball of your foot.) Get a new pair of shoes. Pick shoes with good arch support and a cushioned sole. Or try heel cups or shoe inserts. Use them in both shoes, even if only one foot hurts. If these treatments do not help, your doctor may recommend splints that you wear at night, shots of medicine (such as a steroid) in your heel, or other treatments. You probably will not need surgery. Doctors only suggest it for people who still have pain after trying other treatments for 6 to 12 months. Plantar fasciitis most often occurs because of injuries that have happened over time. With treatment, you will have less pain within a few weeks. But it may take time for the pain to go away completely. It may take a few months to a year. Stay with your treatment. If you don't, you may have constant pain when you stand or walk. The sooner you start treatment, the sooner your feet will stop hurting.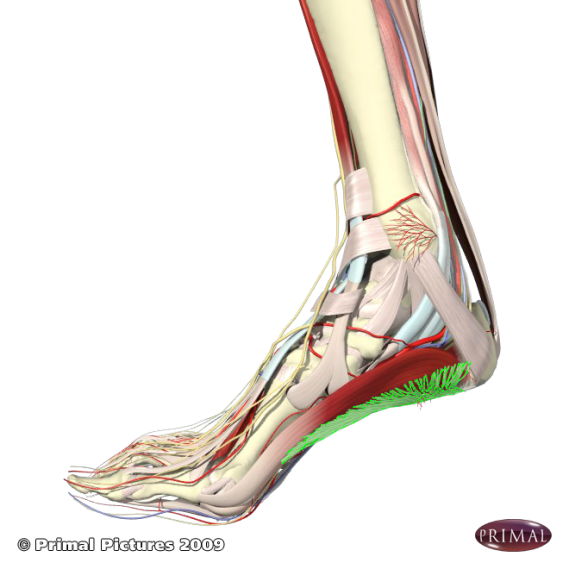 Surgical Treatment
Like every surgical procedure, plantar fasciitis surgery carries some risks. Because of these risks your doctor will probably advise you to continue with the conventional treatments at least 6 months before giving you approval for surgery. Some health experts recommend home treatment as long as 12 months. If you can't work because of your heel pain, can't perform your everyday activities or your athletic career is in danger, you may consider a plantar fasciitis surgery earlier. But keep in mind that there is no guarantee that the pain will go away completely after surgery. Surgery is effective in many cases, however, 20 to 25 percent of patients continue to experience heel pain after having a plantar fasciitis surgery.